Beyond complexities, leveraging opportunities
Every organization, especially in the emergent mid-cap sector, has a unique growth path. At Hunt Partners, we specialize in understanding your peculiar challenges and talent advisory needs, and empowering you to achieve big wins despite market complexities.
Our relentless focus on the Indian talent economy over the last 15+ years has equipped us with a strong understanding of local markets and their underlying mechanics. Our customized services, deeply assimilated global practices, and unsurpassed wealth of India-relevant intellectual capital help us transform your organization.
Built for Growth
Hunt Partners' people, culture, processes, and services together form a powerful framework
that ensures superior results for you.
Greatness begins with people.
Our senior partners and team members not only excel in their field, but are also driven by empathy, and a genuine desire to help others succeed.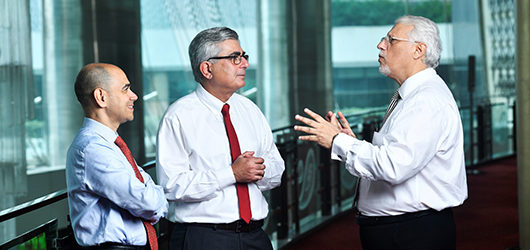 Leadership: We walk the talk.
As business leaders ourselves, we understand and anticipate the challenges entrepreneurs struggle with.
Over the last few decades, we've shouldered the responsibilities of C-suite roles and board advisory positions, in global and local organizations. These experiences have enriched our local market expertise, global know-how, and wide networks, which we now leverage to your advantage.
Committed to your success.
We're personally invested in your success – we go the extra mile to support and empower you.
Our leaders invest time and energy to understand your organization and build strong ties. Over time, these relationships translate into friendships that benefit clients in their own professional journeys too.
We value:
Customer-centricity
Putting customer interests first, placing emphasis on
empathy and understanding
Positive Teamwork
Fostering harmonious collaborations that leverage the
multiplier effect
Intrapreneurship
Giving employees the operational freedom to push
boundaries, innovate and take ownership for their actions
Dedication to Excellence
Pushing for excellence by focusing on the minutiae – we
make sure to dot our i's and cross our t's.
We succeed because we customize.
Emerging organizations – especially family enterprises, are faced with challenges and opportunities unique to them. In such cases, a customized approach is essential to align talent to strategy. At Hunt Partners, our process is built around customization – we embrace a bottom-up approach, adapting our processes, know-how, and mindset, to that of your business.
Highlights of our process:
Highly involved experts
Our senior partners are personally involved in every step of the mandate execution, which significantly raises the caliber of results.
Continuous knowledge transfer
Our long-term approach to partnerships enables clients to benefit from a continuous build-out of knowledge and timely actionable insights.
With you, from insight to induction
We serve as your trusted advisors throughout. We bring in a layer of strategy and clarity at every step, right from defining roles, to onboarding, and beyond.
0
delivered in record time
Advisory Board
Highly accomplished industry veterans, leaders with a shared interest in human capital and organizational development – Meet the senior experts who form part of our Advisory Board. They serve as our mentors, enabling crucial industry connects, and as our go-to advisors for matters related to governance, strategy, and business.
Practice Leads
Our Practice Leads are former and current entrepreneurs, board advisors, C-suite professionals, and industry veterans, with decades' worth of expertise. When they're not bridging gaps between people and organizations, they're busy playing the role of mentor and advisor in their personal capacity.
Partnerships & Alliances
For more than 30 years, EIM has proven the effectiveness of its project management process, working in close collaboration with the client and supporting the interim manager to resolve the transition challenges facing the business.
With a community of more than 30,000 Executives we have successfully performed over 10,000 assignments in the past 30 years.
Whether you are a global corporation or a start-up, whatever your governance, Eric Salmon & Partners provides a range of leadership advisory, governance advisory and executive search services ensuring you have the opportunity to create a legacy.
Eric Salmon & Partners has grown at a rapid pace whilst ensuring that the firm is one of the best places to work in our industry.