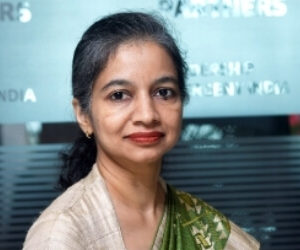 Anne PrabhuPartner

anne.prabhu@hunt-partners.com

Certified Leadership Assessor & Coach, Wellness Enthusiast
Practices – Logistics & Supply Chain, Healthcare & Life Sciences, Engineering Services & Technology and Coaching
Known for her authenticity, direct and personable communication and focus on excellence, Anne is a guiding light for the team. She has been an integral member of the founding team at Hunt Partners, and today co-leads the firm. She is a trusted Advisor to start-ups, SMEs, Indian conglomerates and Global multinationals. Anne has deep expertise in the Life Sciences, Healthcare Delivery, Logistics, Information Technology, and ITeS practices. Prior to joining the firm, Anne has worked with a leading international executive search firm for 3 years, during which period she successfully delivered complex C-suite searches across a diverse set of industries. She kickstarted her career in 1994 as a Human Resources professional and worked in reputed firms including Grey Worldwide, DHL Worldwide and The Central Park.
Anne holds a Bachelor's Degree in Arts from Bangalore University and a Master's Degree in Social Work from Mumbai University. She has attended Leadership Programs at Harvard Business School and IIM Ahmedabad.
She is a Certified Coach from Coaching for Transformation and is an Associate Certified Coach (ACC) from International Coaching Federation. She is also a trained NVC practitioner and is certified in Human Potential Assessment. Passionate about her role as a catalyst for transformation, her clients are primarily CEOs and CXOs who welcome the opportunity to journey inwards. Anne also volunteers with a global non-profit and a local NGO.