Board Governance – the next level
At the heart of every successful business sits an effective Board of Directors that guides the enterprise on strategy, emergent risks, talent & succession planning, and stakeholder interests. Good corporate governance thus lays the foundation for sustained growth and profitability, and is a crucial element of success. In times of economic challenges especially, the Board of Directors acts as a lighthouse, safely navigating enterprises through stormy waters.
Everything a Board needs, in one place
At Hunt Partners, we offer an array of services that includes the appointment of Chairpersons & Independent Directors, Advisory Board composition, Compensation Advisory, Director Training & Certification, and Board Evaluation & Effectiveness services. We lean on our panel of experts, current and former Board members of reputed Indian and global MNCs, who from their decades of personal experience, know what makes an effective board. Among other research papers, we coauthor India's premier biennial publication on corporate governance, the "India Board Report", in partnership with PWC and AZB & Partners.
Hunt Partners along with its JV partners Board Evaluation Ltd., UK helps the organizations establish the best processes & practices for effective functioning of the Board.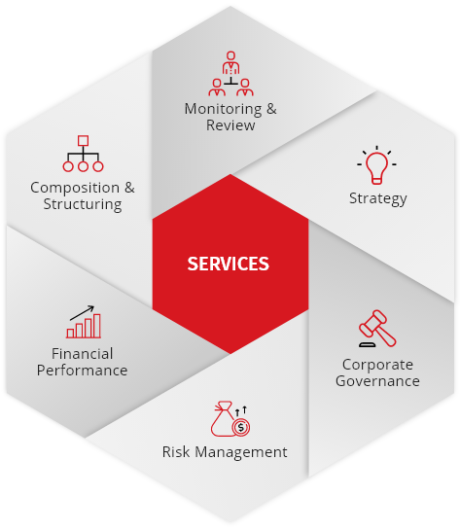 Board Search
Over the last decade and more, Hunt Partners has actively built and managed a list of high-profile leaders, ranging from seasoned Directors, to those seeking their first Non-executive/Independent Board position. We help businesses identify specific needs and appoint committed, competent leaders who can leverage their knowledge, wisdom and professional networks, while acting as true ambassadors of the organization.
Board Research
In partnership with PWC and AZB & Partners, we conduct a biennial study, the results of which are compiled and published in the highly sought-after 'India Board Report'. This study is based entirely on primary research and personal interviews with Independent Directors, Company Secretaries, and Business Leaders. Today, India Board Report is the most referenced report in India, for matters related to Corporate Governance, and Independent Directors and Boards.
Apart from this, we also periodically author and publish various articles on Board Advisory and Corporate Governance, including the "Board Effectiveness Report".
Board Evaluation & Effectiveness Services
Our Board Evaluation & Effectiveness assessment services, developed in partnership with Board Evaluation Ltd. (UK), and in accordance with SEBI and MCA guidelines, help organizations ensure an effective and optimum Board performance.
Over the last 5 years and more, we have worked as close, trusted partners & advisors for our clients, including Indian, MNC's and PSU organizations, to evaluate Boards, Directors, Committees and Chairpersons. We have helped each Board develop best practices and winning strategies, design and implement impactful Board processes, all of which have delivered superior levels of Board effectiveness.
Active, wide network:
Decades' worth of experience has helped us build and nurture close ties with countless senior professionals across diverse industries and roles. With this active, real-time database of leaders, we can now connect you with the right talent quickly.
Invested Subject Matter Experts:
As former and current board advisors, and co-authors of renowned publications on board advisory, our leaders know what it takes to drive and maintain an effective board. To ensure superior outcomes, our senior partners lead every mandate themselves.
Customer-centric approach:
We customize our strategy in line with local markets and individual client needs. We approach every project as a long-term partnership, serving as your mentors at every step, right from defining the role to post-onboarding support.
True brand ambassadors:
Our extensive experience helps us size up opportunities accurately and envision the perfect candidate. We then serve as passionate ambassadors of your organization, bringing your opportunity to light in the most compelling manner.
High-quality research:
We embrace a bottom-up approach that includes rigorous research. The significant business intelligence gathered throughout the process enables you to take timely decisions based on actionable insights.
Practice Leads
Our Practice Leads are former and current entrepreneurs, board advisors, C-suite professionals, and industry veterans, with decades' worth of expertise. When they're not bridging gaps between people and organizations, they're busy playing the role of mentor and advisor in their personal capacity.