January 21, 2022
Posted by:

Hunt Partners

Category:

Talent Acquisition
The McKinsey Global Survey on future workforce needs reports nearly 9 in 10 executives and managers say their organizations either face skill gaps already or expect gaps to develop within the next five years. These findings suggest that companies lack the talent they will need in the future: 44 % of respondents say their organizations will face skill gaps within the next five years, and another 43 % reported existing skill gaps. That's a total of 87 % who say they either are experiencing skills gaps now or expect them within a few years.
According to PwC, 133 million new jobs will require upskilling by 2022. Hence companies will have to re-skill or upskill their work forces to meet their demands and this is a financially beneficial route as opposed to onboarding new hires. Artificial Intelligence and Machine Learning are no longer mere buzz words, it is integrated with every technology and vertical domains. Workforces should be reskilled or upskilled in a range of power Skills like Hybrid Working, Crisis Handling, Leadership during crisis, Collaboration, Team Management, Communication & Empathy, along with in-demand technology skills.
Also, Colleges/Universities should focus on in-demand skills of their students based on the job market trends. Not just soft skills, but also skilling up in significant interview techniques, building aptitude and logical reasoning along with digital skills in line with technology trends. More students will find employment in their campus placement in top companies with higher salary packages as a result. Emerging in-demand skills will lead to disruptive innovations like large scale technology disruptions, trigger breakthrough product ideas in the market and it will supplement disruptive business model transformations to meet customer demands and gain competitive advantage in 2022.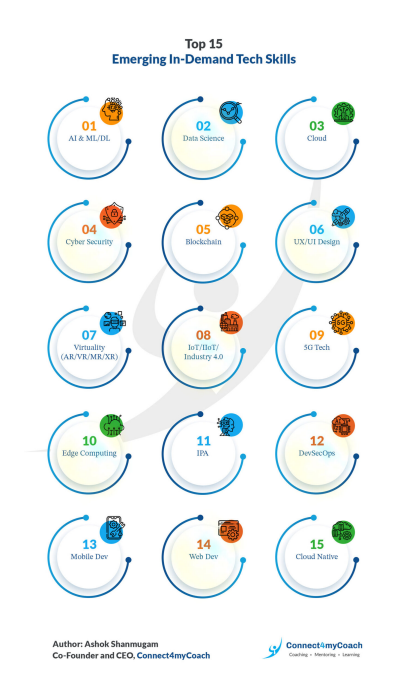 According to MIT SLOAN, In-Demand Power Skills training returned roughly 250% on investment within eight months. PwC highlights that 74% CEOs are concerned about the availability of the key skills. 77% of workforces on the other hand are ready to learn new skills or completely retrain themselves and 74% see training as a matter of personal responsibility based on a PwC survey. While the average salary budget increased to 3 percent by the end of 2021, the Society for Human Resource Management (SHRM) is projecting a 3.9 percent increase for 2022. This in itself showcases the significance of talent acquisition in the coming months.
What Talent Leaders must do moving forward is first identify the emerging in-demand skills based on the global  industry transformations, market dynamics, accelerating digital transformation, COVID-19 Crisis and emerging technological disruptions. Then  workforce strategy and campus placement  strategy must be planned accordingly for the immediate future and for the long term. Skilling will become a coe component of this integral strategy to manage your talent and keep pace with unprecedneted industrial transformations. 
---
Source: PeopleMatters