Sumit Bidani
Chief Executive Officer of Knauf India Pvt Ltd
Sumit is a graduate from the Indian Institute of Technology, Madras and a post-graduate from XLRI, Jamshedpur. Prior to his role at Knauf India Pvt Ltd (erstwhile USG Boral), Sumit was the Managing Director at Formica India and has held senior positions in global companies such as Colgate Palmolive, General Mills, and Shell Lubricants. He is primarily responsible for developing the growth strategies and expansion of Knauf across South Asia.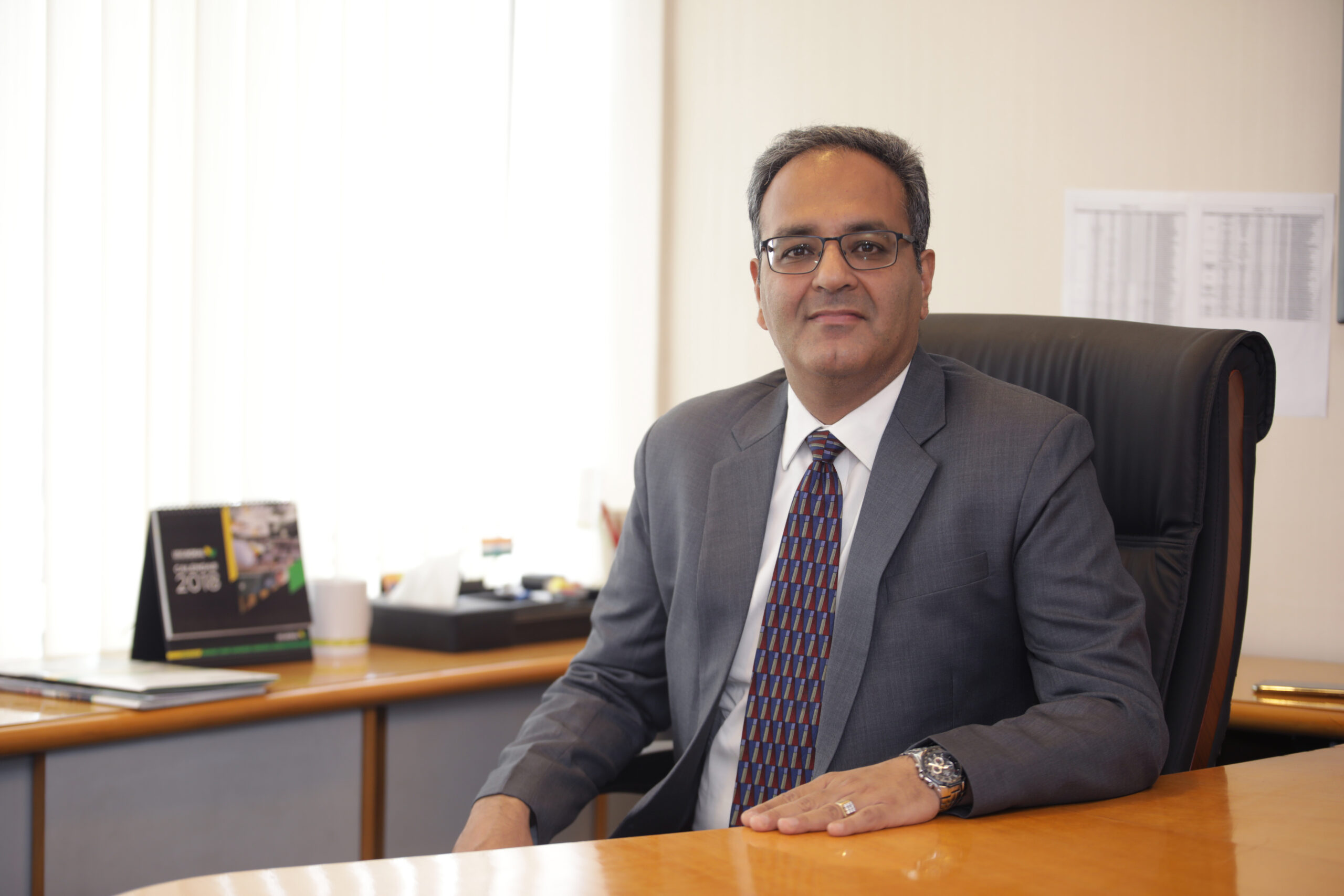 ORGANIZATION STRATEGY/ KEY CHALLENGES

1. How do you see your deliverables as a CEO in the Indian environment
Broadly, as I see it, the key deliverables would be to build and develop a viable business that provides good value to the customers, ensures a good culture and working environment for employees, and is able to support the development of the country. The key challenge in a large and complex country like India, is to ensure a robust distribution network spanning the length and breadth of the country. From the manufacturing and logistics perspective, besides ensuring the highest quality standards and on time delivery, implementing the best possible safety standards is most critical and a key accountability of a CEO.
DOMAIN SECTOR (TO CAPTURE CURRENT SECTORAL TRENDS DEVELOPMENTS CHALLENGES)

2. What are the key challenges your sector is facing? Both immediate and long term. And what steps you are taking to overcome?
As far as building materials are concerned, the key challenge is increasing the adoption of newer building materials that require a change in the existing construction practices. With Green Buildings being a key focus area and the need to minimize usage of water and sand in construction, usage of gypsum boards is increasing. However, the key challenge is the lack of knowledge and shortage of relevant skills within the construction ecosystem. To overcome this, there is a need to impart knowledge to the construction community, on the advantages of the same and provide support and training on design and installation.
3. How has the Pandemic/technology/globalization/economy affected your sector?
The last few years have been quite challenging for businesses. We have had to encounter new challenges every few months. To start with, there were significant supply chain related issues, especially for imported raw materials. This, of course, impacted our planned inventory levels for us to continue ensuring the highest possible service standards. The massive inflationary pressures that we have seen across most commodities have had a significant impact. Improving overall efficiencies, has hence been a key focus area for us.
PEOPLE ASPECT

4. What is your talent strategy?  How do you draw a balance between home grown vs lateral hiring at the leadership level?
I am a firm believer in the adage which states that having well engaged people, who are capable of punching above their weight, is a key differentiator for successful organizations. The important aspect in this is providing the right environment that allows measured risk taking. People and organizations need to be able to learn from successes as well as failures. 
Key talent needs to be given opportunities to participate and lead various organizational projects, especially those that take them out of their comfort zones. 
When hiring talent from outside, the goal is not just job fitment but future potential as well.
Ensuring Individual Development plans is a very key part of talent development. This starts with a robust gap analysis and has a set of SMART actions that help in the development process.
5. How do you identify and develop future leaders?
Demonstrated achievement and capacity is usually a good starting point when identifying talented individuals who can be developed as future leaders. The journey towards actually achieving their potential usually depends on their ability to learn and adapt on a regular basis; effectively coach and develop their teams; and harness strong, effective working relationships with other functions across the organization.
SHORT/MEDIUM TERM OUTLOOK & STEPS TAKEN

6. Every crisis is a learning opportunity, what lessons have you picked up from Covid?
Across most organizations, virtual working has been the biggest learning. This has improved team effectiveness where individuals are based out of different parts of the world. One now has a better understanding as to when a virtual meeting is required and when should it be face to face.
One of the big lessons for me post covid, is the holistic understanding of team engagement. Even during the months where only virtual working was possible, the leaders who were able to engage their teams the most were those who were able to ensure that their team members had a clear understanding of the expectations from them as individuals, as well as expectations from the team. Having a clear understanding of what is required and how it contributes to the larger objective is possibly one of the biggest sources of engagement. 
7. In a world full of Volatility, Uncertainty, Complexity & Ambiguity (VUCA), innovation has become one of the most important factors to transform a crisis into an opportunity. How do you promote Innovation?
For me, Innovation in an organization thrives in a culture where there is a strong problem solving approach as well as open communication in the teams. I am a firm believer in putting in cross functional teams together and asking them to solve a problem or work on an insight jointly. This could be across various areas like product, customer, logistics, manufacturing etc. The approach needs to be like an idea pipeline funnel which starts with clearly defining the problem or task at hand. Usually this is the biggest challenge, as I have seen that people straight away get to ideas. Another challenge revolves around teams not following the rigor of pursuing the ideas pipeline and rejecting ideas too early. As a leader, I like to drive a robust problem solving culture and process as I feel this is the best way to generate innovative ideas and ownership among team members. The other important aspect is encouraging the team to take measured risks and be open to failures.
LEADERSHIP

8. How do you define and practice leadership?
I feel leadership is about getting the best performance from the team while ensuring strong motivation and engagement. I like to build a shared vision for the larger team and am usually explicit in communicating what it looks like and what is expected in the short, medium, and long term.
The broader company objectives need to translate to functional, team and individual objectives. The idea is that each individual needs to be clear on his or her goals and how it fits in with the organization's objectives. While this sounds very commonplace and simple, I have seen this as one of the biggest challenges when it comes to getting optimal performance from the team. I have learnt this the hard way as I have been guilty of being casual on this front a few times in the past.
Clear objectives and goals need to be accentuated with regular and scheduled reviews and feedback. I personally like to push the culture of review and feedback down the line with all people managers, as I have seen that, in most cases, this very aspect is a clear differentiator between good and poor leaders.
I also feel that good leaders need to be good listeners and display empathy. This leads to encouraging two way feedback as well as genuinely being a coach for their team members.
9. We see many Indian leaders on the global stage. How can more Indian leaders become Global Leaders?
Indians have an advantage when it comes to leading on the global stage, especially given that many have spent the initial part of their careers in a complex market and business environment like India. Usually, a strong educational background and good communication skills give an added advantage. Also, growing up in India, one is used to a lot of diversity very early on. Hence, this gives an edge when someone becomes a Global leader as one thrives in leading diverse, spread out teams.
I feel more Indians can become Global leaders if, early in their careers, they are given the necessary confidence in executing their ideas and the relevant exposure to bigger opportunities and challenges. Stronger execution rigor and process orientation would surely help more Indian leaders make it to the global stage.
PERSONAL

10. What are the 3 most pivotal moments in your career that you learned from and/or that got you where you are today?
The following moments in my career would possibly be those which have given me the biggest learnings
In my first job as a Management Trainee with Colgate Palmolive, I was handling upcountry Haryana as a frontline sales person, as part of the Management Trainee program. I was in a bus that was stuck in the middle of massive floods, somewhere near Bhiwani. Food packets were being dropped from helicopters somewhere close by. I, along with a co-passenger, then led the team and walked towards the closest village where we took shelter overnight in a temple. As you can imagine, there was a lot of confusion as to what should be done in this situation. Possibly the confidence with which I suggested this action plan was what convinced everyone. In retrospect, that decision possibly saved all of us.
Early on in my career, I moved to a job solely because of the pay. The few months that I spent there were possibly the most uncomfortable parts of my career. It made me re-evaluate what I wanted to do, my strengths and my career aspirations.
When I first started dealing with global teams, I wasn't able to get things done the way I wanted to. This forced me to adapt my communication style where I lay a lot of stress on first getting everyone on the same page. This involves sharing proper details of the context as well as the rationale behind what I am suggesting. This also meant a lot of genuine listening and openness to suggestions from others. To be honest, I credit this experience for my ability to work collaboratively and drive my team towards the same.
11. What message would you like to share with young professionals?
My first advice to young professionals would be to do what they really want to do rather than something that seems to be the in thing or what is the highest paid or what most others seem to be doing.
Whichever industry or function one starts in, you must be prepared to get your hands dirty and go through the rigor of some boring or mundane tasks that are required as a part of your job. This experience is going to be very valuable when you take up more senior roles later on.
I would also suggest that you have confidence in yourself and take measured risks. Do not be afraid of failures as those are very good learning opportunities.