Jonathan D'Souza
Chief Human Resource Officer of Welspun One Logistics Park
Business Expertise
Business Strategy & Execution
Product & Business Development
P & L Management
Customer Delivery
Technology & Program Management
HR Expertise:
Organization Culture & Structure
Performance & Rewards
Board & Organization Communication
M & A
Academic Background
Global MBA – Indian School of Business
(ISB), Hyderabad
BSc (Chemistry) – St. Xavier's College,
Mumbai
Awards & Recognitions
Welspun One – Best-in-class Warehousing Company 2022
Welspun Group Best Emerging Company Award 2021 – Welspun One
Gallup Global Best Place to Work – Tech Mahindra Business Services (part of the Core HR Leadership Team) & responsible for new age policy rollout.
Highest Employee Engagement – ING Group
Business Turnaround Champion – ING Investment Management, India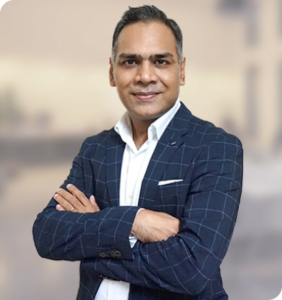 HR STRATEGY

1. HR drives the business, what is your take on this? How does it influence your HR strategy?
Today, HR is the internal catalyst for continuous transformation, shaping new ways of how work is done and curating a culture that enables the organization to deliver the best experience to the customer, whether it's a product or a service, or both.
We live in the most dynamic times ever and this is going to get even more complex. The  new context would mean that whatever HR does would directly enable the organization to serve its customers to the best of its capabilities, and create significant value for the shareholder.
2. Do you think HR has succeeded in becoming a strategic partner for business? What could be the areas of improvement?
Increasingly and undoubtedly, yes – HR has succeeded in becoming a strategic partner for the business. 
The areas where HR can now increase focus are
Playing a larger role in the organization's ecosystem and creating sustainable and long term partnerships within the arena

Championing change and influencing 

Capability Building & Continuous Learning

Technology Adoption

Health & Wellness

ESG & CSR
TALENT MANAGEMENT

3. What is your recruitment and talent development strategy?
We are always focused on communicating the following via various forums and mediums, externally & internally
What does success look like
For the business
For the team
For the role & the role holder
How will the business evolve, grow and continue to consistently succeed & hence
How will the business evolve, grow and continue to consistently succeed & hence
How will our structures evolve
How will your career grow
What aspirations will you meet
What skills will you need
4. In a VUCA world, how do you cope with the disruptive forces? Be it Talent Retention, Engagement, and Development.
We are simplifying our communication and continuously setting context for our people
In doing so we are able to
Maintain open and candid communication lines; set realistic expectations in the relationship
Ensure a continuous feedback loop and closed loops, whether with a "yes" or a "no" or "a lets visit this in the future"
Visit & revisit career aspirations & opportunities to fulfill these aspirations within the organization
Encourage talent to take charge of their career and capability building while pushing ourselves to create an environment aimed at building their best selves, thereby producing the best outcomes.
TECHNOLOGY AND ANALYTICS

5. How do you see AI/Technology/Digital & Analytics play a role in HR?
Technology and digital is a boon for HR; It has brought in speed, agility, consistency and quality for the function
It has moved HR from the back office to the boardroom
6. What are your thoughts on workplace innovation in HR, particularly in the context of the current disruption/WFH we have been forced to adopt?
I believe that we now live in the era of bespoke experiences and one size actually doesn't fit all
Hence, flexibility with accountability is what we encourage / sponsor within the ambit of the organization's policies / processes and the demands of the role
ROLE OF HR IN THE ORGANISATION OF FUTURE

7. How has HR changed in recent past? What is the main challenge HR may face over the coming years?
Over the past decade or so, HR has become a business partner and a catalyst for transformation, from its previous role as an enabler or a support function. The function is on the frontlines, with the so called line functions and acts as a sounding board and advisor to the business. Imagine a car rally – the role of HR is that of a navigator.
Some of the challenges that HR has to overcome are
For the Organization
Capability building & skilling
Leadership development for the new world
Technological transformation and adoption
For Talent
Creating bespoke experiences across rewards, recognition and career planning
Supporting Talent to manage their lifestyle and physical, psychological, financial & spiritual wellbeing
PERSONAL

8. What message would you like to share with young professionals?
Always aspire to stay Relevant
R : Choose rigour over comfort, that's where learning & growth happens 

E : Emotions – Be aware of your emotions; equanimity is scarce and valuable

L : Learn new skills, build new capabilities and be tech savvy, always

E : Engagement – Try your best to live in the present and overthink issues as less as possible

V : Value – I believe Value builds relationships, thereby prompting fantastic experiences, so strive to Add Value in all interactions

A : Aspiration – "I am not what happened to me, I am what I choose to become." ― C.G. Jung, my quote of life sums this up

N : Next is What? It's all about raising the bar, time and again

T : Team – Family, friends, colleagues, mentors. Build relationships and connections. It shapes your identity, gives you strength & support when you need it the most.
9. What are the 3 most pivotal moments in your career that you have learned from and/or that got you where you are today?
Health –

Careers are marathons – Good health & energy fuels passion and optimism. I have been able to bounce back from early lessons learnt.

Embrace cross functional assignments

I have been fortunate to handle IT & Sales Analytics, which has added new perspectives to my understanding of Business

Build strong networks – externally & internally –

Peer learning and experience sharing have helped me take on unique challenges as well as crack complex opportunities and I now feel at home when working with diverse teams with diverse perspectives – realizing that every problem or opportunity has many more ways of getting solved that I could have ever imagined.
Disclaimer: The views and opinions expressed in this article are solely those of the author, in a personal capacity. Assumptions, generalizations made within the scope of this article are not reflective of the position held by the author in her current or past employments