A Nithyanand
Business Head - Sembcorp Green Infra Limited (SGIL) of Sembcorp Industries
Nithyanand is the Business Head – Renewables of Sembcorp in India. Sembcorp Industries is a leading energy and urban solutions provider, driven by its purpose to do good and play its part in building a sustainable future. In India, Sembcorp has established itself as a leading independent power producer (IPP) committed to India's energy transition. Its India operations have a balanced portfolio of conventional and renewable energy assets totalling about 5GW capacity in operation and under construction. Through its wholly owned subsidiaries Sembcorp Green Infra Limited (SGIL), the company has established a successful track record of identifying, developing and operating renewable power generation assets across the country.
Nithyanand has more than 28 years of experience in leadership roles across infrastructure, real estate, healthcare and utilities. In his prior roles he was CEO – Asia for Roadis Transportation (a global investment and operating company focused on the highway sector and owned by PSP, a Canadian pension fund); and as the Chief Commercial & Business Development Officer (Airports) at the GMR Group where he was responsible for revenue and growth at the airport vertical of GMR.
Over his career span he has handled leadership positions as a Business Head and CEO, led revenue and sales assignments, led growth driven acquisitions, managed strategic divestments, driven competitive bidding for large projects and handled shareholders responsibilities and overall strategic thought leadership.
Nithyanand has an MBA from Carnegie Mellon University, a Masters in Finance from Delhi University and Bachelors in Economics from Delhi University.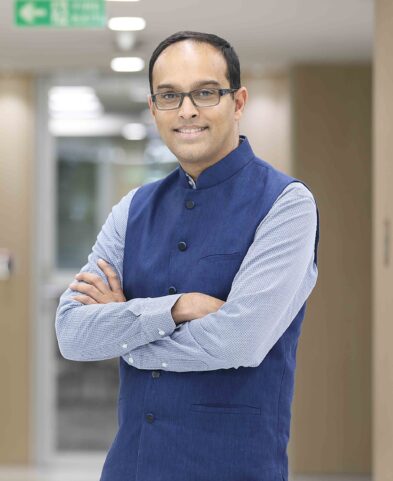 DOMAIN SECTOR (TO CAPTURE CURRENT SECTORAL TRENDS DEVELOPMENTS CHALLENGES)

1. How has the Pandemic affected your sector?
Over the past couple of years global supply chains have seen tremendous disruptions. Renewables industry in India also faced significant delays in commissioning of projects that rely heavily on imports of critical equipment and material. Despite the short-term challenges posed by the pandemic such as construction work being put on hold and cost overruns, given the volatile global economy, wind and solar sectors in India can still continue to remain attractive to many investors. Backed by long-term contracts and sales being relatively insulated from fluctuations in consumer demand, wind and solar continue to remain preferred investment avenues.
PEOPLE ASPECT

2. How does your organization identify and develop future leaders?
People are at the core of everything we do at Sembcorp. Our performance relies on them. Developing exceptional leaders is a key priority for us. We have in place talent established management and leadership programmes, that help us identify and groom candidates who have the potential to become effective and highly valued Sembcorp leaders. They are selected to participate in rigorous yet rewarding live projects and development programmes, which challenges them to grow. We believe that nurturing our pool of talent with a global mindset and common culture, built on our company ethics and core values, is key to growing as a global utility.
SHORT/MEDIUM TERM OUTLOOK & STEPS TAKEN

3. Every crisis is a learning opportunity, what lessons have you picked up from Covid?
The pandemic has necessitated us in Sembcorp to the introduction of new SOPs and technological solutions in our power generation assets. The pandemic accelerated our adoption and integration of digital technology and enhanced our capability to monitor, forecast and run our operations efficiently and ensure that site operations remain unaffected by the pandemic. We have also learned to understand that crisis is an excellent opportunity to pause, reflect and innovate.
In the near future, while we learn to safely co-exist with covid, in addition to operational efficiencies, the industry will have to increasingly prioritize its digital transformation and long-term resilience diligently, to mitigates and manages risks more efficiently.
4. In a world full of Volatility, Uncertainty, Complexity & Ambiguity (VUCA), innovation has become one of the most important factors to transform a crisis into an opportunity. How do you promote Innovation?
The uncertainties over the past couple of years have shown the opportunities that exists for India in the energy transition and 'Make in India' is one of them. Though the power sector rose to the occasion and displayed exemplary resilience, the pandemic has remined us more than anything else that in addition to operational efficiencies, the industry will have to increasingly prioritize its innovation, digital transformation, and long-term resilience diligently, to mitigates and manages risks more efficiently.
Sembcorp continues to invest in innovation, R&D and deployment of advanced technologies to drive business performance and tackle resource challenges. We have been actively developing in-house technologies focusing on remote monitoring, predictive asset management, analytics, and energy forecasting to maximise the efficiency of our assets across renewables and sustainable urban solutions. Digital analytics for wind and solar assets have helped in better resource management and energy forecasting, designing more efficient generating units that bring down operational costs while maximizing availability of energy. Drones have proven to be useful for our inspection regime, where they are able to cut down a vast amount of time for inspecting a system and through technology, able to identify hotspots within the system. As an early investor in technology, our investments have not only helped us to achieve significant cost efficiency improvements and savings in O&M but also positioned us strongly to transform a crisis into opportunity.
LEADERSHIP

5. We see many Indian leaders on the global stage. How can more Indian leaders become Global Leaders?
Talents are universal, however Indian pools have thrown up several professionals who are leading MNCs and Fortune 500 companies, engineering the future of the fourth industrial revolution. It has taken a lot of hard work and technical prowess but tossed into that mix is also a philosophical worldview that has taught Indian leaders not to take their ego to work with them. Multinational companies often must fight ambiguities and need leaders who can maintain a steady stance faced with curveballs. Indians have a natural resourcefulness when dealing with obstacles.
As corporations became increasingly global and diverse, leadership style has also evolved into one that inspires others to follow a greater cause. Such qualities have helped Indians and leaders in the east to ascend to top positions in global companies.
PERSONAL

6. What are the 3 most pivotal moments in your career that you learned from and/or that got you where you are today?
Possibly the most pivotal point in my career was experiencing the cancellation of a large contract by a foreign sovereign Government. The experience taught me how to navigate a seemingly impossible situation and take out the possible result for my organisation. Eventually, teaching me the true meaning of the phrase "every adversity in an opportunity". The infrastructure industry has an abundance of pitfalls, and this lesson has held me in good stead.
7. What message would you like to share with young professionals?
As young professionals strive to excel and grow over the years, it is crucial that they continue to view their role in perspective by reminding themselves it is temporary and does not define or limit their self-worth and importance in the world. Whereas Steve Jobs advised college graduates, "Stay hungry, stay foolish," I urge them to "Stay hungry, stay humble". Further, young professionals should set a pace and work-life balance they can sustain for a marathon-length effort, rather than burn out by sprinting over and over. I encourage them to keep up the good work and do not get discouraged if the tide sometimes flows against your dreams.