Quaiser Parvez
Chief Executive Officer of Nucleus Officer Parks (Blackstone Portfolio Company)
Quaiser Parvez is responsible for running all facets of the business. He is a strong exponent of the customer-first approach and believes in aligning technology and processes to that end. Under his leadership, the company is accelerating towards its goal of creating enhanced spaces for our customers and delivering returns to our investors.
Quaiser helps forge relationships with all stakeholders in the delivery chain. While the focus is on the business, he always has an eye on how the company continues to contribute to our environment and society at large. He strives to nurture a culture of collective responsibility at Nucleus Office Parks.
Quaiser has a proven management track record of driving growth across the business over the past 2 decades. He graduated from Delhi University and is an alumnus of IIM Ahmedabad.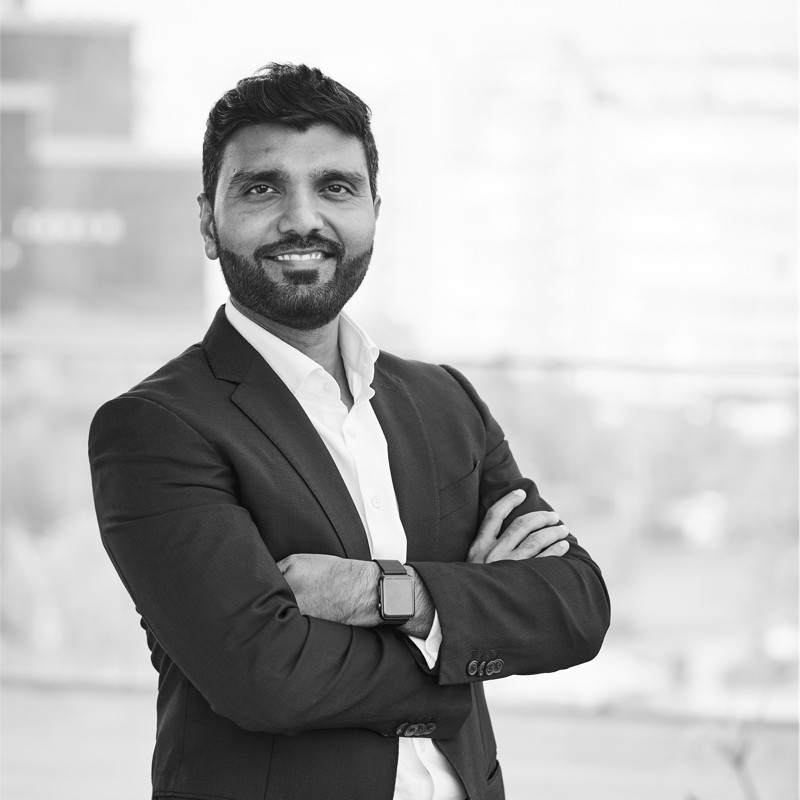 ORGANIZATION STRATEGY/ KEY CHALLENGES

1. What was the mandate given to you by the Board when you took over in your role?
At Nucleus, we have been privileged to have a distinguished board which not only brings in expertise but also a global perspective. Being a new platform, the mandate was to build a team with diverse experience which can come together and work in a cohesive manner based on the pillars of integrity, customer centricity and corporate governance. The mandate also included ensuring we adopt best practices and policies
2. How much of that has been achieved?
With some pride, we can claim to be an employer of choice and have grown over the last few years. The team has been built keeping in mind our ethos and culture and we have been certified as Great Place to Work. The last year was extremely challenging, but we have matched and, in most cases, surpassed expectations around all key financial KPIs. The results are there to show with close to 1mm sq ft of new leasing being achieved by the team in FY22, consistent improvements in Net Operating Income across our assets.
DOMAIN SECTOR (TO CAPTURE CURRENT SECTORAL TRENDS DEVELOPMENTS CHALLENGES)

3. What are the key challenges your organization is facing? Both immediate and long term. And what steps you are taking to overcome?
Being part of the commercial real estate sector, there are a lot of discussions going around on evolving real estate strategy and the future of office. Most companies have slowly started getting employees back to the work place. One of the key challenges in the short term will be making your employees feel safe to be able to work in office without any fear
On our part, we have been extremely focused on health, safety and wellness for all our stakeholders. NOP made a complete overhaul of Occupational health and safety processes in line with the British Safety Council standards. We won a rare double of 5 Star rating and Sword of Honour for 100% of assets that participated the evaluation process.
In the long term, we will witness a change in expectations from customer for commercial office space not just as a place where one comes to work, but a place which can cater to different requirements. We will see an evolution where you would slowly move away from a provider of real estate but to a more service-oriented approach.
As an institutional landlord, we have always striven to provide best service to our customers and invested heavily in capex upgrades to provide differentiated experience. We have spent close to 100 crores to upgrade our parks and provide break out zones, state of the art foodcourt, gyms, etc. We have also used technology as a key enabler to provide convenience for our tenants at a click of a button via our app. We have engaged with professional coaches and institutes to train our property management staff across assets.
We believe all this creates long term value which is why companies would prefer to deal with institutional landlords
4. How have the Pandemic/technology/globalization/economy affected your sector?
Pandemic with its inherent uncertainties did cast a momentary slowdown in the commercial space business. However, with the economy on the mend, the sector is moving forward with renewed buoyancy. Having said that, pandemic has changed the way people expect to interact with physical spaces.
With significant tailwinds in the technology adoption and its growth, technology companies are leading the increased space absorption in the market. With the increasing competitive on India and adverse wage inflation in the western world, cost advantage for India is even more pronounced and has seen wider acceptance.
PEOPLE ASPECT

5. What is your talent strategy? How do you draw the balance between home grown vs lateral hiring at the leadership level?
Talent Management is a critical business goal for us at Nucleus Office Parks. It's linked to our organization's Mission and Values. Deputing the right talent in the right roles at the right time is one of the key factors for us to stay ahead. At NOP we ensure to understand the key requirements of the roles well enough to support internal talent growth, especially for core business roles as well as ensure a good mix of skills from the external market mostly for non-core roles. Happy to share that at the Leadership level as well we have a mix of both internal and external talent who help Nucleus drive the People Strategy of bringing to life our EVP and ensure that we are a strong talent maker.
6. How does your organization identify and develop future leaders?
At NOP Performance Management System is viewed from the lenses of enhancing the overall performance bar for the organization and celebrating some distinctive achievements. To add to this, employees' performances are assessed not only on the deliverables but also on how they demonstrate Organizational Values; especially People Managers are encouraged to provide and receive open and honest performance feedback. This gives us and our employees a great opportunity to unlock their potential and with appropriate learning interventions develop talent within. As for learning interventions, we have institutionalized programs for Individual Contributors as well as People Leaders with an opportunity for a personal Executive Coach to ensure personalized development growth aligned to NOP culture and business priorities.
SHORT/MEDIUM TERM OUTLOOK & STEPS TAKEN

7. Every crisis is a learning opportunity, what lessons have you picked up from Covid?
COVID has been a humanitarian crisis in my view. I think it will be a pity if we haven't learned enough from it. Some of the key learnings for me are around one's holistic wellbeing. Looking after your health is no more a fade but a necessity whether it's your physical, emotional, mental, or spiritual wellbeing. It's a compelling factor that has helped me emerge stronger and probably slightly more prepared for such times which in all honestly hope we never face again. And like many others, I also grappled through the disruptions but just being mindful, being you, being among your loved ones at home or colleagues and employees, and being there for each other makes me feel more in control.
Being the captain of a ship also makes me feel more responsible towards my own well-being and a thought-through way of impacting the culture of the organization.
Digital preparedness and working as One Team are the other 2 key factors that have emerged as key areas of success for me. No matter what if we are all united with a common purpose and vision we will sail through challenging times.
8. In a world full of Volatility, Uncertainty, Complexity & Ambiguity (VUCA), innovation has become one of the most important factors to transform a crisis into an opportunity. How do you promote Innovation?
For me, Innovation was never an option. It's in fact the lifeline to survival. The past has witnessed many paradigms which created history and unfortunately became one due to lack of innovation. At the heart of innovation are agility, experimentation, and a growth mindset. At Nucleus, we promote a culture that is open, agile, and transparent as well as one of our Core Values of Commitment to Excellence where our employees are open to suggest ideas, experiment, and establish new standards and benchmarks as we are one of the frontrunners in the industry. To quote an example; One Green Mile was a transformational project that we launched in the heart of Mumbai city with the key purpose to add value to society and uplift the face of Lower Parel thereby resolving certain domestic issues of traffic, building green cover, and rejuvenation amenities for the locals. This meant thinking out of the box by not only asking ourselves what facilities we can provide to our tenants inside our office premises but also how can I aid the process by enhancing the surrounding area as well thereby impacting the lives of the locals too in a positive way.
LEADERSHIP

9. How do you define and practice leadership?
For me, a leader is that captain of a ship who ensures that his team delivers to the T and goes beyond for its customers, but at the same time is human enough to take care of its own people and promote collaboration and entrepreneurship within. Have enough and more lifeboats! As they are the ones who are there with you today and will continue to be there tomorrow if you genuinely be by their side.
Being strong and yet vulnerable, goal-oriented yet purposeful.
10. We see many Indian leaders on the global stage. How can more Indian leaders become Global Leaders?
Culturally it's quite fulfilling and inspiring to see Indians on Global platforms. I have many Indian Leaders as role models indeed! I would take a step back and reflect on the grind that we go through as part of our education system to the value system that we are raised in. I believe all of this put together prepare us for bigger and larger things in life and hence over a period of time we see many Indians making their mark on the global landscape. Additionally, our economic growth, demographics, and a flatter world have only aided the whole process.
To answer the 2nd question, firstly a big shout out to the Indian Leaders out there to support their local counterparts here. Secondly, I think we are already in the right direction of being more experimentative, flexible, and open to the VUCA world. One key aspect to remember would be to ensure a balance between what we stand for as Indians and yet be Global! This is a beautiful blend and will continue to inspire young leaders!
PERSONAL

11. What are the 3 most pivotal moments in your career that you learned from and/or that got you where you are today?
Needless to say, pandemic with its different forms, has been a time of great uncertainty and equally a time to reflect on things which we thought were important but strangely could do without for over 2 years. The bear hug of flexibility in our approach and resilience in our spirit has been profound.
While a lot of has been spoken and written on leaderships but personally speaking –
A clear action bias
Creating pockets of commitments
Welcoming new viewpoints has been most effective for me.
12. What message would you like to share with young professionals?
Please reflect on whether you are interested in achieving your goal OR committed to your goal. Interest has explanations while commitment has a non- negotiable focus and drive.