Sumit Mukhija
CEO of STT GDC India
Sumit has close to three decades of experience in diverse organisations like STT GDC India, Tata Communications, Microsoft, Cisco, Brocade, Wipro and Tata Elxsi.
Sumit's expertise includes: Sales leadership, GTM, Strategic Planning, Board Collaboration, Facilities Expansion, Leadership development, Risk mitigation, Market coverage and analysis, Regulatory Compliance, P&L management, Asset/Liability oversight, M&A and Due diligence.
Sumit has extensive experience in leading, transforming and scaling businesses in Information Technology Products and Services including Datacenter, Cloud and managed Services and equally adept at starting new Lines of Business as well as scaling an existing Business.
STT GDC India, a joint venture of STT Global Data Centres Singapore and Tata Communications, delivers customer-centric Datacenter Colocation Solutions that power and protect mission critical Infrastructure while maintaining exceptional levels of Service and Uptime Reliability. The scalability, Reliability and operational Maturity that it brings to the table makes customers trust and host their mission critical infrastructure in it's State of the art Datacenters. This frees them up to innovate while deriving TCO benefits as well.
Sumit has been heading this business for STT GDC India in India since 2015 and during this period, delivered 3X growth in revenues and profitability and set up a strong platform for future growth and expansion making STT GDC India, the number one Data Center colocation services provider in India.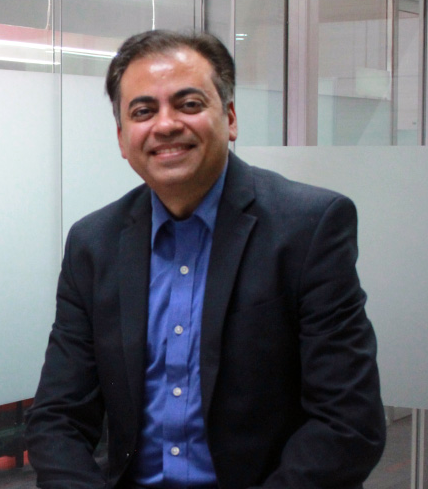 ORGANIZATION STRATEGY/ KEY CHALLENGES

1. What is the mandate given to you by the Board? How much of that has been achieved?
We have a well-defined vision for the company and that is to Deliver Highly connected and Scalable Datacenter Infrastructure solutions that enable the Digital ecosystem while maintaining exceptional levels of Quality, Safety and Uptime Reliability.
The stakeholders expects us to achieve all of the above as well deliver faster than market growth, at the same time, expecting us to do it responsibly, profitably and ethically.
We are today, the largest Datacenter colocation services provider in the country with more than 200MW of Design Capacity in terms of IT load, spanning across 21 facilities (including under construction) in 9 cities totaling to more than 3 Mn sqft of Gross floor area. Since 2015, our design capacity has grown 5X, revenue by more than 3X and we have done this profitably with an equal growth in EBITDA.
We have also made significant progress on the sustainability front with more that 36% of all of our power requirements coming from renewable energy and this likely to go beyond 50% over the next couple of years as we aim to go carbon neutral by 2030.
Our attrition rate is lowest amongst our peers and one of the lowest in the IT industry. Our Net Promoter Score from the Customer Satisfaction Survey 2020-21 stands at ~63 with a response rate of ~95%. This reflects the trust that our customers have placed in us.
Over the years, we have demonstrated an impeccable track record in designing, building, delivering and operating large multi-megawatt projects for large Indian and global enterprises.
Operations is in our DNA and that reflects in our facility uptime record which is practically more than 5 nines across our facilities for the last 7 years running.
DOMAIN SECTOR (TO CAPTURE CURRENT SECTORAL TRENDS DEVELOPMENTS CHALLENGES)

3. What are the key challenges your organization is facing? Both immediate and long term. And what steps you are taking to overcome?
First and foremost, Datacenters inherently, is a very complex business that require 24×7 monitoring and real-time decisions in mission critical environments. Creating a sustainable and reliable ecosystem that is aligned to the safety, quality and the stringent uptime SLA requirements of this business at the same time remaining accountable and growth focused, is one of the biggest challenges of the industry. The ecosystem itself is very diverse and consists of our customers, partners, suppliers, contractors, shareholders and our own employees. Aligning all these entities to create an ecosystem that functions seamlessly and without hassles takes exhaustive efforts. At STT GDC India, we have been able to effectuate all these immaculately.
The industry in general faces multiple challenges ranging from availability of land, power and skills to inconsistent government policies and statutory approvals which are time consuming to operational problems arising out of water scarcity, electricity outages, strikes, pandemic situations and haphazard pollution control directives etc.  All these problems must be addressed if India has to play any significant role in the regional datacenter map.
We work closely industry bodies like the CII and Assocham to take our concerns to the state and central governments and provide our inputs to draft policies and other inputs sought from us from time to time.
On the operations front, we have implemented robust business continuity plans that helped us deliver uninterrupted services even during the peak of the pandemic situation.  Our real strength lies in our people who have stayed invested with the company, thanks to the culture of trust that we have built over the years in the organization.
4. How have the Pandemic/technology/globalization/economy affected your sector?
The year 2020 was both challenging as well as inspiring. Challenging because of the way the pandemic situation unfolded, the unfortunate loss of lives and livelihoods and the impact it had on the global economy.
At the same time, the year was inspiring, firstly because it has made all of us tougher, stronger and more resilient than ever and more importantly, it has brought focus back on technology and innovation and triggered manifold acceleration in the adoption of cloud and digitization as digital emerged as the backbone of everything during lockdowns and other pandemic related challenges, a trend which is now practically irreversible.
STT GDC India along with many of our ecosystem partners and peers, played a crucial role by providing the underlying infrastructure on which the cloud and apps ride, which in turn kept things going for companies, governments and people alike during this period. The Datacenter and cloud sectors experienced growth even as other businesses faced challenges during this period.
Another emerging trend worldwide has been an increased focus on data privacy and localization. GDPR started it all and more recently in India, the personal data protection bill and related data privacy and data localization norms have been emerging. All of these have a compounding impact on the datacenter and cloud infrastructure in India as global cloud, OTT and internet players work towards meeting the local norms and improving user experience.
On the operations front the situation amidst the pandemic and the corresponding lockdowns across the world had a significant impact on the way we do business and operate our facilities. To ensure uninterrupted services to customers, we invoked a comprehensive Business Continuity Plan and undertook several measures such as stocking additional spares and HSD fuel at site, provision of on-site food and stay arrangements as well as transportation facilities for critical facilities staff, maintenance of health and hygiene, including sanitization of facilities by specialized agencies. We also provided additional allowances to our staff to ensure high motivation levels and in meeting their cash flow requirements during this difficult period. Our CFM staff rose to varied challenges and demonstrated great resolve, resilience and commitment in keeping the lights up and running 24×7 and maintaining the required service levels till date
PEOPLE ASPECT

5. What is your talent strategy? How do you draw the balance between home grown vs lateral hiring at the leadership level?
On the frontlines are leaders creating and driving competitive advantages so that our product offerings excite consumers and employees alike. We've been dedicated to upholding our values of mutual respect, integrity, diversity, inclusion and teamwork, maintaining the trust of stakeholders, employees and the community by observing the highest standards possible.
STT GDC India's family has been growing by attracting the best of talent. Last year alone, we hired more than 50 new employees across different functions, with quite a few of these positions closed via the employee referral scheme. At the same time, each new job role is posted internally and interested employees encouraged to apply for the same.
STT GDC India also introduced employee friendly schemes like night shift allowance and new year end time off. At the peak of pandemic, when other companies were pulling the plug, we gave increments to all employees and additional hardship allowances to operations staff.
We now have a workforce that is highly skilled, young and eager to learn and grow. We extended the company's philosophy of rewarding the best talent by onboarding top performers from our contract staff as full-time employees. To align employee goals and performance with that of the organization's we have well designed learning, talent and career management program, that is imparted online and in-person. In the year gone by, more than 32 hours of training per employee has been achieved.
We also focus heavily on diversity as part of its people strategy. We are perhaps the only datacenter services provider who have deployed women workforce in datacenter operations, design and delivery, all of these traditionally have been areas considered as a male only bastion The rise in diversity has led to an increasingly collaborative and team-based structure and a clear competitive advantage.
To ensure our employees have access to a great place to work, learn and even unwind, we rolled out initiatives for Talent Management, Performance and HR policies as well as a Rewards and Recognition program, an Annual Health Checkup plan and a Car Lease plan, etc.
The DC colocation industry is constantly evolving, allowing for innumerable opportunities to grow and sharpen the learning curve of beginners. The gap in skilled labor space is huge and in order to address the same, we have launched Experience Centre for data center skill development in Bengaluru to upskill and enhance youth employability in India. This initiative is aimed at addressing the existing skill gap in the industry and provide students with practical training on data center-related projects in a live simulation data center environment. This unique corporate citizenship initiative by STT GDC India aims to help students build essential skills for a career in the data center industry and support their overall development through life skills coaching as well. The purpose of this Experience Centre at our Centre of Excellence is to provide a platform for interested candidates to up-skill in alignment with industry requirements complete with practical learning opportunities, thereby enabling them to increase their employability quotient.
6. How does your organization identify and develop future leaders?
Our employees are our greatest strength and have shown massive ownership throughout the pandemic and lockdown. We are committed towards enabling and growing our unique set of talent and have rolled out various initiatives even during a hybrid working to create a better work environment.
We have yearly talent conclaves for each of the functions to identify critical and high potential employees. These employees are encouraged to share their career development plans and nominated to focused leadership learning programs.  We also encourage our employees to not limit themselves to the on-the-job learnings and encourage them to collaborate with their teams to lead tasks outside of their regular jobs. These include strategic projects lead by cross-functional virtual teams led by the high potential employees.
Overall, in order to create an environment that nurtures our people to reach their highest potential, we have many up-skilling and right-skilling programs available that offer a blend of technical and behavioral learning opportunities. On average, every employee at STT GDC India has been engaged in 32 hours of training over the last one year and the ratio of technical training versus soft skill training was 60:40. The upskilling programs have also improved our efficiency in managing the critical facilities with only 50% of the staff as approved by various governments.
SHORT/MEDIUM TERM OUTLOOK & STEPS TAKEN

7. Every crisis is a learning opportunity, what lessons have you picked up from Covid?
As the pandemic raged on, all individuals and businesses had to make tough decisions to survive. An important lesson during the pandemic has been the importance of having a robust Business continuity plan (BCP) that ensures the organization's readiness in mitigating contingencies and unprecedented situations adroitly. Fortunately, and given the type of business, we are in, we already had a business continuity that we could invoke and was a major enabler for us in delivering 100% uptime across our sites while maintaining health and hygiene as required. Our IT readiness helped in the smooth transition to WFH for employees of functions other than mainstream operations. Even then, there were learnings which we have further incorporated in the existing plan.
8. In a world full of Volatility, Uncertainty, Complexity & Ambiguity (VUCA), innovation has become one of the most important factors to transform a crisis into an opportunity. How do you promote Innovation?
Innovation is not just limited to products and services; it spans across people and processes as well. While in mission critical environments, we strictly follow Standard operating procedures, the procedures can be made more robust and effective by reviewing them regularly and incorporating the learnings.
STT GDC India believes in giving absolute autonomy to each employee so that they can find innovative solutions to critical problems. All the modern workplace resources are at the disposal of the employees so that nobody is in want of anything. The company is a melting point of great minds who are high on energy along with commitment and accountability to their work which makes it a great place to work.
We challenge our operation teams to share ideas and ways to improve operational efficiencies and increase levels of automation in our facilities. The selected ideas rewarded and are implemented with ring fenced budgets. Design and engineering teams are encouraged to evaluate new technologies and solutions, participate in and contribute to technical forums and propose new and yet proven designs that stretch the power and cooling utilization efficiencies much beyond what the Indian climatic conditions permit.
Growth, for STT GDC India, is not only about revenue and profitability but also about bringing positive changes through initiatives that aim to empower communities, enhance access to education (digital literacy), emphasize skills growth, create employment and entrepreneurship opportunities, besides promoting environmental as well as ecological sustainability.
Creating a sustainable and growth-focused ecosystem, not only for its customer base but also for all its employees has been a major goal for STT GDC India, as a result, the company has managed to clock-in 32 plus hours of learning against a target of 28 hours. With a perfect blend of technical and behavioral learning, STT GDC India has been able to ensure personal and skill development for those involved.
LEADERSHIP

9. How do you define and practice leadership?
Leadership for me has been a gradual learning process, initially learning mostly from my mistakes. However, as I met more leaders, I learnt by trying to emulate them. I am a constant student of leadership and have had the opportunity to be coached by some global gurus. I use these inputs with me team and encourage them to do the same with their respective teams. I am constantly trying to be a better version of myself.
10. We see many Indian leaders on the global stage. How can more Indian leaders become Global Leaders?
India is increasingly becoming a global leader in various walks of life and many Indian businesses are finding limelight in the global stage.
Taking the right and more importantly timely business decisions, uplifting employee confidence and morale and giving back to the community in my view are some ways for Indian leaders to go global. Purpose and people over product and profiteering is the key. True global leaders need to be able to define a strong purpose driven philosophy and inspire the entire organisation and its people to internalize it.
Another key aspect is the need for empathy and fostering a culture of trust, respect and innovation. This is where Diversity, Equity and Inclusion also come into play where an organization should draw its talent from diverse groups of people which can lead to higher levels of productivity. The only caveat here is to nurture a culture of zero discrimination and safeguard human dignity, besides of course promoting meritocracy.
Lastly, intrapreneruship is gaining momentum and leaders need to reimagine growth by enabling other leaders in the organisation and letting them drive their own growth story like entrepreneurs do while contributing to the larger cause for the company.
PERSONAL

11. What are the 3 most pivotal moments in your career that you learned from and/or that got you where you are today?
I am an engineer by qualification and a businessman by heart and experience. As an Engineer, I am able to ask the right questions, drive and hold the team accountable as over 50% of our employees are engineers given the kind of business we are in.
While I started my career in early nineties and have worked for both large Indian as well as global companies over the last 3 decades, there have been many defining moments for me.
The turning point for me was, when I was called into TCL in 2014, to grow their managed services business, carve the datacenter line of business into a separate entity and eventually search for a new partner to grow the business. Presenting to senior representatives of private equities and global and large datacenter operators, going through the end to end due diligence process, conducing roadshows to get funding from banks, transitioning the business from being a Line of business of TCL into STT GDC India in its current avatar today and in the process enabling more than 3 folds growth in revenue and profitability has been the highlight of my career.
12. What message would you like to share with young professionals?
I am sure all your readers are well-informed, but I am humbled to share a couple of things they may find useful. Firstly, solutions to most of the problems in our life and businesses, may be much simpler that we think and most likely reside within the ambit of common sense that we all already have handy, but don't apply or relate on time. Secondly, the internet, cloud and now AI and machines have brought in significant advantages in both our lives and we do business. However, we need to be able to learn to use these technologies and tools to our advantage and not let them undermine the most important assets in this world – that is the people.   We must continue to nurture and upskill our people and keep them motivated. Successful businesses in the future will have highly skilled, competent people who will use technology effectively and efficiently to deliver exceptional outcomes. Lastly, dream big, chase your passions, remain steadfast in your convictions and stay consistent in and accountable for whatever you do. Discipline and consistency can go a long way and enable people make a mark.