Mona Cheriyan
President & Group Head Human Resources of Thomas Cook India Ltd
Mona Cheriyan is currently the President & Group Head Human Resources of Thomas Cook India Ltd. She is responsible for the Strategy, Leadership Development, Employee Engagement and other HR functions at the Group level.
Prior to Thomas Cook, Mona was the HR Director and member of the Advisory Board of ASK Investment Managers Pvt Ltd. Before her stint in ASK, she was with Oracle Financial Services Software Ltd as General Manager – Employee Engagement & Europe Liaison, where she managed the Global Corporate HR team spread across various locations in India and overseas.
With over 30 years of rich and varied experience, she has done pioneering work in the areas of Employee Engagement, Global Policies & Processes, Leadership development, Diversity & Inclusivity, Compensation & Benefits, HR Audit & Process automation. Besides Oracle Financial Services Software Ltd, she worked with NIITand the ESSAR group and provided consulting services in the area of HR Strategy and Systems. Her exposure and expertise in the entire gamut of Global HR functions & Leadership development area is being used to further strengthen develop & build employee capabilities.
She is expert in behavioral sciences and personally imparts training in various Leadership development areas. She has also been associated with campuses viz. TISS, Symbiosis, SP Jain, IIFT, Welingkar etc., as a guest lecturer. She is also a regular key speaker at various NHRD, NASSCOM, BMA & other related forums in the area of Diversity and Inclusion. She was the President of the WoMentoring Chapter of the National HRD Network and the Executive Committee Member of the Bombay Management Association leading the Women's Leadership Committee, whose focus is to design, develop and deliver initiatives to help to build confidence and capabilities for women in Corporate India, and provide the support and guidance that both men and women need reach their business goals.
Mona has been the recipient of the "Super Achievers Award" by the Indira Group of Institutes for outstanding achievement in the field of Human Resources in 2007, the "HR Leadership Award" awarded by the Employer Branding Awards in 2008 and the "Women Super Achiever Award" awarded by the World HRD Congress for 2009 and 2016 and the "Most Influential HR Leader" award in 2017.
She is an avid reader and loves to travel and meet people. In her free time, she tries out different recipes and paints ceramic mugs.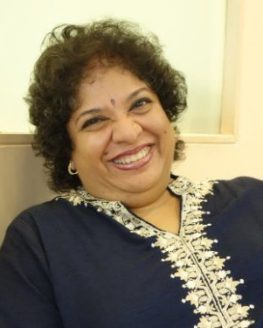 1. HR drives the business, what is your take on this? How does it influence your HR strategy?
Human Resources play a crucial role inorganizations today. Organisations which concentrate on developing their talent, deliver greater results. When the leadership recognizes the value of HR and its contribution to the business, the fact that we need to be able to ensure a change of mind-set not only in all departments of the organization, but also to the way HR leaders view their work and skill sets. A change in mind-set is followed by a change in skill set which helps Human Resources make any strategic change.
2. Do you think HR has succeeded in becoming a strategic partner for business? What could be the areas of improvement?
To a certain level yes, but there is undoubtedly a long way to go. In today's world, businesses recognize the value of acquiring and retaining talent that can help drive the business to success. Additionally, it is important to focus equally on up skilling of existing employees in order to develop and maximize talents within the organization. Areas of improvement can include a further push from the senior management to ensure HR is recognized not simply as a cost centre but as profit driven centre of human capital
3. What is your recruitment and talent development strategy?
We seek to hire talent that has the potential for the role while giving ample scope of improvement for nurturing and developing their hidden and inherent capabilities on the job. We organize multiple training workshops around the year covering a variety of skill sets for employees to refine and enhance their entrepreneurial skills, and build expertise in behavioral areas, along with their existing domain knowledge.
4. How is Artificial Intelligence aiding your recruitment, and talent management? How do you see this evolving in future?
Artificial Intelligence sees great prospect in HR. From recruitment to employee management, AI is steadily transforming HR and its initiatives. Some of its uses include, background verification, learnings on employee attrition and personalization of content for employee skill development. We expect deeper learning in the future which can assist us on a regular basis.
5. How do you see Technology & Analytics play a role in HR?
HR teams have now adapted "people analytics" which is being used to reduce turnover and find better hires. Today's advanced data analysis software can help bridge the gap between understanding why effective employees quit, to which management practices work the best. If used properly, this previously inaccessible data can lead to increased operational efficiency from the top to bottom of an organisation. We actively use talent analytics in making best use of our talent.
6. What are your thoughts on workplace innovation in HR, particularly in the context of the disruption we are witnessing?
HR's role has evolved and grown over the years. From the role of filling up vacancies arising out of a new role or requirement or an employee moving out, HR is now also responsible for deeply analysing multiple aspects of employee behaviour which can benefit the organization on multiple levels. Since organizations now understand that their biggest asset is their workforce, the scope of innovation in HR has grown considerably. HR Technology – as a concept and as a tool – has opened up new possibilities to analyse the data and hire individuals accordingly.
Role of HR in the organization of future
7. How has HR changed in recent years? What is the main challenge HR may face over the coming years?
Over the past decade the challenges were succession planning and providing leaders with the skills needed to be successful. Today, with the increasing competition for skilled workers is a top concern. Over the coming years HR professionals need to be more flexible and responsive to changing employee needs, understand different life and career stages, be much more tech savvy and proactive to the demands of the business imperatives.
8. How do you see the organizations evolve in the future? What is the future of the Organization?
I see organizations becoming more digital, redesigning themselves to move faster, adapt more quickly, facilitate rapid learning, and embrace the dynamic career demands of their employees. Hierarchical organizational structures are being replaced by models where work is accomplished in teams to compete and win in today's global business environment.
9. What message would you like to share with young professionals at the start of their career?
I believe that success cannot be evaluated by hierarchy, or measured with money; what truly makes you successful is making a difference to peoples' lives, and having meaningful relationships. I have found that if you work with sincerity and integrity, success follows.
10. What are the 3 most pivotal moments in your career that you either learned from and/or that got you where you are today?
Managing acquisitions in an IT company that I worked for gave me a lot of knowledge on managing employee expectations. The 2008 downturn and business loss which had serious consequences on people was a huge learning. Managing a global workforce, global compensation, statutory compliance and immigration for over 60 countries was a huge learning. While I have listed a few, I believe every day and each part of my role has been a part of shaping the professional I am today.