AMAR SINHJI
Executive Director | Human Resources
Amar is the Executive Director, Human Resources and Member – Executive Committee of the Firm.
Prior to joining Khaitan & Co, he was Head – Human Resources and Member – Management Committee at Tata Capital Limited. He was also responsible for the Learning & Development, Corporate Social Responsibility, Administration & Infrastructure and the Safety functions at Tata Capital. He has been responsible for setting up the Human Resources function and all related policies and practices at Tata Capital since its inception.
Amar has more than 24 years of industry experience, out of which he was with the Tata Group for the last 15 years. He began his journey in the Tata Group with Tata Finance as General Manager – Human Resources in 2000. He then took over as Head – Human Resources for the two JV's with the Toronto Dominion Bank – Tata TD Waterhouse Securities and Tata TD Waterhouse Asset Management in the year 2002. He then worked with the Indian Hotels Company as Director – Human Resources (Leisure Hotels) until his move to Tata Capital in 2007.
Prior to joining the Tata Group, Amar worked with the Essar Group as Jt. General Manager – Human Resources. He began his career with Bharat Petroleum.
In his various assignments, Amar has anchored numerous initiatives to support the development of strategic Human Resources practices. His focus has always been on aligning the Human Resources function to dovetail with business plans. His passion lies in setting up and establishing the Human Resources function in new companies, in the formulation of key Human Resources policies, team building and engagement. His current passion lies in the building of cultures.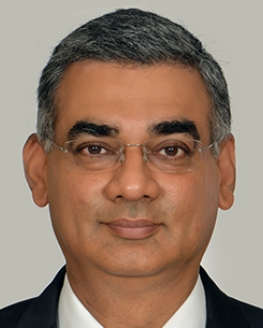 1. In today's context HR drives business, what is your take? How does it influence your HR strategy?
I would not say that "HR drives business" but it certainly is a very important element to effectively drive any business. If you were to compare a company to an orchestra that plays western classical music, with the CEO being the conductor, HR is now equivalent to the "first violinist"!
2. Do you think HR has succeeded in becoming a strategic business partner today? Where is the room for improvement?
Absolutely it has. And one can see that in the number of Board and Management Committee positions held by HR Heads today. It can also been seen by the number of process / decision forums that require the involvement / sign of from HR.
3. What is your recruitment strategy, how do you hire people and groom them?
Our recruitment strategy is split into what we call three buckets of experience &expertise. We look at entry level (campus hires) talent, junior talent and senior (Partner level) talent. This "grow our own wood" philosophy will pay us rich dividends in the future with a continuous stream of young talent that has grown while imbibing our culture &value systems.
4. How has technology impacted recruitment, candidate expertise, and talent management? Is technology evolving too rapidly for industry to keep up?
Technology has had a huge impact not only on recruitment but on all areas of Human Resources and it will continue to have a disruptive impact in the foreseeable future.
5. How do you see the role of Technology & Analytics in the HR function?
I see the role of technology as "mission critical". Those who are not at the cutting edge will fall off the cliff very quickly or get swamped by changes that are bound to come in waves.
6. What is your strategy on workplace innovation, particularly in the context of a disruptive environment?
Our strategy on innovation is linked more to culture than to a process framework. Unlike the manufacturing industry, where a process framework is essential to drive, capture and integrate innovation in all its forms, in a knowledge industry the culture / environment is what will foster innovation.
ROLE OF HR IN THE ORGANIZATION OF FUTURE
7. How has HR changed in recent years? What is the main challenge facing HR over the next five years?
The change in HR in the recent past has been dramatic. It is mainly in the manner in which HR has moved from being a "support" function to one that is "strategic".
8. What makes employees stay at the firm and how does the firm fare with regards to attrition rates? What are your employee retention strategies?
Luckily for us, attrition is not at issue at all. This is a combination of having a great culture, enough opportunities for learning &growth (both professional &personal), a balanced compensation, rewards &recognition programme, great quality of work, encouragement of diversity within the firm and above all else – the firm being on an upward trend with regard to profitability and growth.
9. What's the best piece of advice for anyone looking to make it in HR?
I guess this is the "million dollar question"?!! One should only venture into HR if one has the ability to quickly grasp the essentials of the business that one is working in, have the ability to stand up and be heard, be able to have the respect of one's peers and have also have the competence &ability to take and drive through very tough (and occasionally painful) people related decisions.
10. What has been your proudest HR achievement?
Well there is no single moment that stands out as such. What I have enjoyed most and what has given me the maximum satisfaction has been the fact that I have successfully been able to work across industries (Oil &Gas / Financial Services – Broking, Investment Banking, Private Equity, Retail Finance, etc. / Hospitality – Hotels / Legal Services).