Director Education Workshop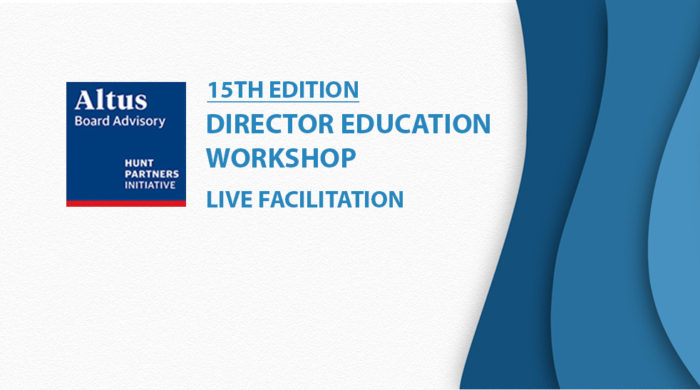 July 25, 2020 - August 27, 2020
DIRECTOR EDUCATION WORKSHOP – 'LIVE FACILITATION'
Director Education is an accredited certification workshop for current and aspiring Directors. It is a 5 weeks expert-faculty delivered and case-study based workshop aided by mock board sessions. Each week there will be 4 modules covered for 90 mins on Tuesday, Thursday and Saturday. A tight and cohesive cohort ensures the highest levels of attention and interactive sessions.
Director Education is recognized by National Foundation of Corporate Governance (an autonomous body under the Ministry of Corporate Affairs, GOI).
Purpose
The workshop gives you the foundation and framework to become a highly-effective member of the board
You will learn to appreciate board dynamics, the implications and duties of being an independent director, and ability to mitigate board, corporate, and reputational risk
Overview
Week 1:
Corporate Governance and the Independent Director, Role of the Boards and Board Committees, What Independent Directors in India do Well & Can-do-better, Investors and Corporate Governance & The Director and the Law
Faculty: Dr. Christopher Pierce, Mr. Nawshir Mirza, Vladislava Ryabota & Nandish Vyas
Week 2:
Strategy in High Performing Boards, Independent Directors' Role in Risk Management, Cyber Security & Role of Audit Committee
Faculty: Nikhil Ohja, Neeraj Gupta, Prof Sandeep Shukla & V Venkataramanan
Week 3:
Forensic Accounting, Accounting & Corporate Reporting, Financial Analysis and Effective Decision Making & Transition from Leading to Influencing
Faculty: Prof Raghu Iyer, Mr. O.P. Bhatt
Week 4 & 5:
Case-Study based Mock Board Sessions
Faculty: Mr. Pradeep Mallick
Who should attend
Director Education workshop is designed for a broad array of attendees—independent directors, executive directors, nominee directors, and executive leadership.
You will join an alumni body of 300-plus professionals
The program fees are INR 1,49,000 plus GST which includes the program costs and materials.
Contact Details –
Ms Bhakti Sonawala, Registrar
bhakti.sonawala@hunt-partners.com
2020-7-25
2020-8-27
Europe/London
Director Education Workshop
Zoom Meeting
save event to calendar